Hi, so im working on this show with projection mapping over a stage using some VERY complex UV mapping. Love the Softedge Blend - FreeEdge, but by merging the texture in the process it also blends in the UV map, so in certain parts of the model/output i get all kinds of funky soft edges where there really don't need to be any.
Can I get a soft edge free edge tool that I can put between the projector and the output? so it only affects that output?
in other words, right now we have this:
https://i.servimg.com/u/f39/18/94/43/63/img_2710.jpg
when ideally i need:
https://i.servimg.com/u/f39/18/94/43/63/img_6910.jpg
which I think should be "somewhat" simple, since everything happens in 'GL render' world until a texture is bound in the module mid way (I tried to re-patch and make a few things happen but Ai didn't like ANY of it and crashed over and over, I did have a lot of fun doing it, but im running out of time)
https://i.servimg.com/u/f39/18/94/43/63/img_6911.jpg
what do you think?
Hi Ruben, i think this is what you mean - ive used this technique when ive mapped rotating objects but needed to still blend without the blend following the object. both the clear module and the render to texture module can be found in insert module/gl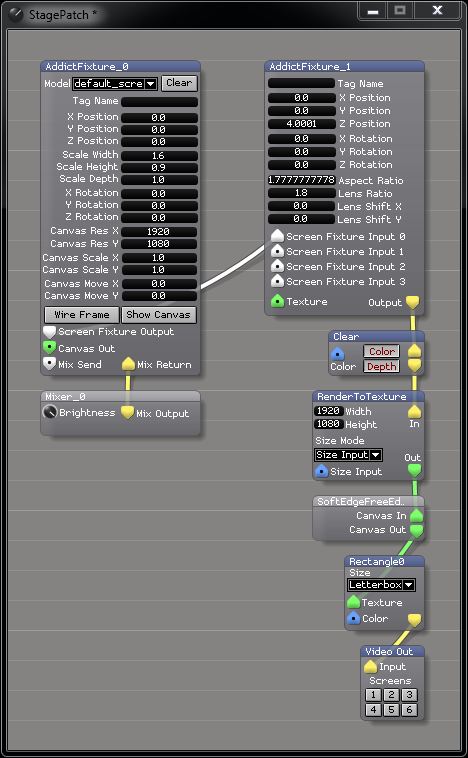 im not sure i 100% understand the question....

you can have multiple 3d models loaded into the fixture which you can swap between live, each of these models can have a unique uv layout... is that what you mean? ( please tell me if ive missunderstood )
Yes and no, the idea is to have a layer or two that do not follow the UV map, but instead use what a projector/camera "sees" and uses that as a texture, to create a flat later of content. I guess te designer wants to have Ai do the mapping and baking internally?
i think its sounding like something we dont quite offer, however.....

"maybe" there are a couple of potential areas that start to bring in what you want...

point of view projection - in the canvas editor you have the option to uv wrap from the point of view of a projector - you can setup a projector which is just used to determine the point of view. select both the screen and projector when applying, but when saving make sure only the screen is selected.

easyblend - a new module within Ai allows for the use of a VIOSO based automatic warp and blend based on input recieved through a webcam - at the start we are using a fairly basic functionality for this with more complex functions and features being rolled out over time. this is so new i cant give an example yet ( sorry! ) but i will do as soon as possible.

i suppose its also worth mentioning that it is possible to send video data from multiple modules / process to the same output, often just by setting both to the same screen, but sometimes by using a gl/render merge to combine the outputs ( might need a blend module in there too )

let me know if im way off the mark - if its something that we cant achieve yet, then maybe we could work out the possibility of including it.
No, you got it. Point of view projection sounds like the way to go. I'll try a couple tests today and report back if i run into any issues.
OK POV unwrap did the trick, at least it seems that way, Now if there was a way to apply that model to just 1 layer... so im digging in the layer patch module and I'm wondering if I can apply a UV to the texture input 1 or 2, or maybe im digging around the wrong place? and this is altogether impossible, OR do I need to patch an entirely new model I know that I can switch between models LIVE but that would apply to ALL the layers and the designer really wants to "compose" with layers, so in theory

Layers 1 > 4 - Original UV
Layers 5 > 6 - POV UV
Layers 7 > 8 - Original UV
I'm laughing historically everytime i made any of the connections below i was waiting for Ai to crash, just for technical reference this is what happens when you give us this level of control...
https://i.servimg.com/u/f39/18/94/43/63/image13.jpg
Here i took the output from the projectors linked to different stages and tried to blend the output together
https://i.servimg.com/u/f39/18/94/43/63/image14.jpg
And here i took the output from one of the projectors rendered it to a texture then took that texture into the layer texture input ch 1...
Obviously both failed, but why couldn't i go with some sort of render mere that actually blends both outputs as one? One of them would use a copy of the original projector and stage but with a different uv, and somewhere along the lines an additive blend would take care of merging them together...
BOOOM! Ideas for future implementation maybe?
im going to give this one some thought....

i do know that a single fixture can only show 1 model at a time

my initial idea ( but needs to be tried) is.....

2 fixtures, and use scence triggers to offset the second fixture to pop it "just" in front of the other fixture when that pov uv is needed.



---
Permissions in this forum:
You
cannot
reply to topics in this forum