Hey folk,
I am currently working on a project doing fly dates and using Catalyst. Still playing around with Ai and trying to learn it. So I thought I would see what it would take to replicate my current system and use Ai instead.

I have a single MacPro Catalyst system. Only using one output to drive all the LED walls. But have broken it up with 11 mixes in Catalyst. The single output is then patched into a DVI Matrix to split the signal to the various LED processors.

My question is how would I do the same setup using Ai, for example with a powerful laptop and 1 output.

I have attached images of my pixel map, my Catalyst mix layouts & what how the walls are actually laid out.

kdelvo




Posts

: 9


Join date

: 2013-04-06


Location

: Seattle



Am trying to upload images but having a hell of a time making it work


kdelvo




Posts

: 9


Join date

: 2013-04-06


Location

: Seattle



Could not upload file : exceeded total storage space. (Free space : 42)

kdelvo




Posts

: 9


Join date

: 2013-04-06


Location

: Seattle



hello,
i think what you want to do is fairly easy in Ai, but i would like to see the image of what you are after to make sure we are on the same page.
can you try using an image hosting site to post the picture and then put a link here? alternatively if the file is less then 10mb, you could send it to me at
arran@avolitesmedia.com
could I put the images on my dropbox and post the link?


kdelvo




Posts

: 9


Join date

: 2013-04-06


Location

: Seattle



a dropbox link is fine for me
Here is the dropbox link to the files I was trying to upload.
https://www.dropbox.com/sh/njhwz63uu047e6k/1_cUuL0_ku
Again, this is the system I have been touring with for the last year. It started using Hippo's and Vista Spyder. Now doing fly dates and scaled down to Catalyst. This is a learning exercise for me using a real world example.
the docs are as follows:
JB_LED_Screens - this is how the LED walls are laid out
mix layout - this is a snapshot of how I have the mixes set for a single output from Catalyst
Pixel_Map_v3 - these are the coordinates of the single output layout
thx,
Ken

kdelvo




Posts

: 9


Join date

: 2013-04-06


Location

: Seattle



Hi,

Can you show us some sample content too ? (a screenshot or one frame is enough)

Do you play the same clips on the different screens or is it one big clip spread out over all the screens?

PatrickBEL




Posts

: 10


Join date

: 2013-06-26



I am uploading 15 frames of some show clips. they are Main (1a-1b), Carts (3a-3h), SR (2a-2b), SL (2c-2d)
files are .mov, AIC, 1920 X 1080

kdelvo




Posts

: 9


Join date

: 2013-04-06


Location

: Seattle



apppologies for taking a few days to get back to you - i had to trvel across the world ( literaly ) and have been a  bt of a jet lag victim!
in the following link i have supplied both a project file - LED Example 01.scb - and a folder of models - LED Example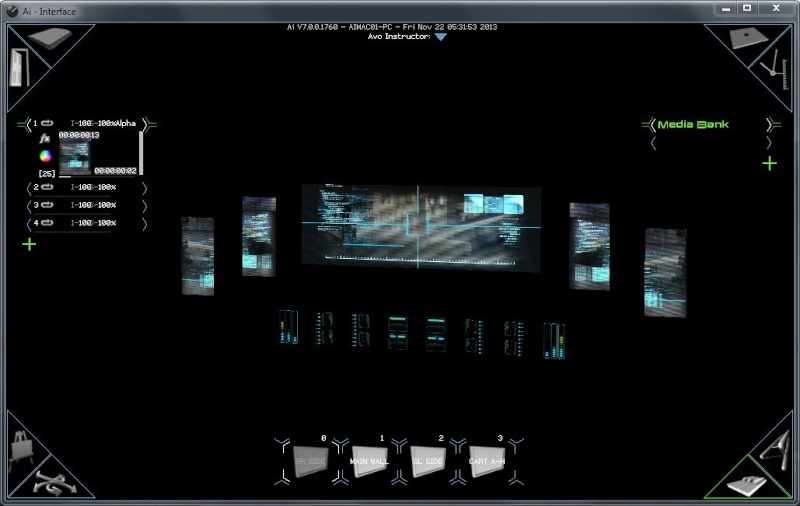 place the .scb file in distrib/projects  and the folder of models ( including the folder ) into distrib/models -this should then load the next time you boot Ai and choose it from the load project icon ( the folder at the top left of the screen ) - if it doesnt, just drop the appropriately named model onto the relevant fixture in the stage construction page ( the truss icon )
ive made the project as 4 fixtures as this is how the content would dictate it - idealy i would like to reduce the amount of fixtures wbut this would require re-rendering footage - i think you could adress SR and SL with the same piece of content, and maybe even put Main Wall and Carts A-H on the same piece as well. Reducing the project to two fixtures like this will greatly reduce the project strain and the required data transfer - less processing and half as many files to be streamed at once.
ive left some notes within the stagepatch to explain whats occuring.
for now ive made it in v7, however the new beta of v7.1 will run it much better due to the improved performance of the new interface system - you should be able to easily construct it in v7.1 with the supplied models if required.
https://www.wetransfer.com/downloads/02fd72f92f973803f6e2daa1fd49f8b920131122051954/0222c6
---
Permissions in this forum:
You
cannot
reply to topics in this forum