Hi,

I am trying to work out the Auto Map functionality in the 7.1 Beta and can't work it out.

I had added auto map system module to the stage patch, and connected it inline between the projector fixture and video output, great, now i have no video coming out. So what do i do now, if i click "configure" i am presented with a patch with one single Projector Location window with a module called "Patch 10" and a non configured projector input parameter.

So, how do i initialise the location process, and how do i get the geometry information back into the projector location??

Thanks!

Gareth

gazzer82




Posts

: 15


Join date

: 2013-12-06



unfortunately, automap is currently not supported on the mac side as its based on windows binaries which need too ( if possible ) be converted o a mac friendly standard.
Oh dear, that's very very dull.

So the only way to lineup a projector is to try and guess it's position in real space??

Is there a document anywhere that details what features are not supported on the Mac platform, as lack of feature parity across platforms doesn't seems to be shown in the basic marketing information.

Thanks

Gareth

gazzer82




Posts

: 15


Join date

: 2013-12-06



as far as im aware the parts not currently working on the mac are:

automap due to it using windows based libraries
FFGL - the included effects need to be recompiled for OSX - exisiting OSX based FFGL plugins should still work though.
Ok, so that pretty much makes Ai a non starter for projection on a mac then, manually positioning the projector is too time consuming to be practical, especially when things scale above a couple of projectors.

Is there a timeframe for if/when this will make it's way onto the Mac platform (i am talking about the lineup by manually locating points, not camera based).

That is very disappointing.

Gareth

gazzer82




Posts

: 15


Join date

: 2013-12-06



id suggest having a go before decding its a non starter - most of the training we do on mapping here is without automap and all of the students so far have got on fine with it - dont forget Ai is realtime output, so as you adjust positions you see the difference on your output- there is also the mapping editor to tidy it up to get the alignment perfect.

as a point of reference - we did a 6 projector lineup in a planitarium ( at the uk space centre ) last year in under 2 hours without knowing any of the measurements - something which the planitarium itself usualy sets aside an entire day to do.
Hmm, it's still less than ideal, especially in a situation where you a re-doing the lineup every day, with little to no time.
It was a big selling point for us, but without it i'm afraid we might as well stick with using Catalyst, 4 corner clicks and we're done, much much easier than messing about in 3D space.
As mentioned, do you have a timeframe for when this feature will come to mac version?
If not may i suggest you checkout
https://github.com/YCAMInterlab/ProCamToolkit,
MIT Licence and everything.
Gareth

gazzer82




Posts

: 15


Join date

: 2013-12-06



we have a patch that does that too - mesh warper - its in the system patches.
im sure you are aware, but keystoning and 3d vertex based positional adjust are quite different processes.
if you would like to take advantage of free training at our office, then please get in contact - our working process is fairly different to catalyst and is worth spending some time to get used too... we have a lot of ex cat users who have been won over once they have taken some time to get to know the software.
i shall point out the link you supplied to our dev team and see if i can get some feedback as to proposed timeframe for automap
Indeed, very aware of the difference, however when i have just a couple of square screens to lineup the differences are relatively moot, and the easiest/working solution wins. I have played with the mesh warper, it seems to work, though the mesh is a little hard to actually use/see on a projector, how would i patch that inline between projector and screen, i have it working direct from Canvas Out but it requires a mesh in, which the projector fixture doesn't have an out for.

Obviously if i am loading an object and working with that then that's a whole different beast.

More than welcome to do some training, Selvin was supposed to come up and see us in December but we had to cancel due to equipment not returning on time.

Do you have any training running in LA as i will be out there of the next few weeks and it might be easier to schedule it then?

I would appreciate any information on ETA for mapping in OSX as that is going to have an impact on our decision to move forward with Ai.

Cheers

Gareth

gazzer82




Posts

: 15


Join date

: 2013-12-06



to take the signal from the projector, i patched it as follows ( the clear and render to texture modules are both found by right clicking in the stagepatch and choosing insert module/gl )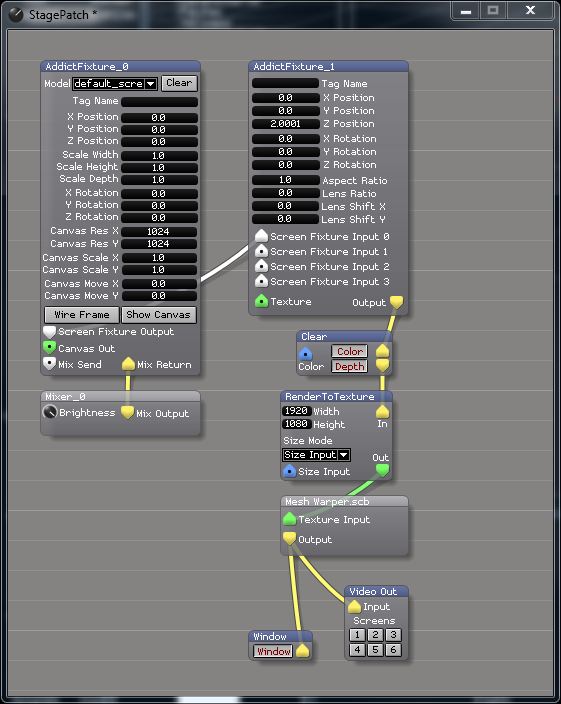 for a more complex 3d object, id suggest using the mapping editor ( tutorial here:
http://www.avolitesmedia.com/wp-content/uploads/2013/07/12_Mapping-Editor.pdf
)
i shall have a look into wether we have someone available over there during that time ( email me and we can chase it up )
Ah ok, that make sense.

I have PM's you a message regarding training.

Cheers

Gareth

gazzer82




Posts

: 15


Join date

: 2013-12-06



---
Permissions in this forum:
You
cannot
reply to topics in this forum