V 9.1 of Ai added the ability to read certain external clocks to control clip playback speed. with a small patch ( attached ), it can be converted to Tap Tempo.
open up the layer window, insert the patch and attach it as shown - the names of the ports on the patch have the same nae as the parameters to connect them too.
inside the patch, Tap Tempo does what it says, Restart allows you to bring the clips in sync, multiplier is usefull to quickly quarter, half, normal or double the playback speed. BPM Lock chooses whether BPM control is only applied to selected clips ( Clip Specific ) or every clip ( All Clips ). I would advise assigning a midi or external controller to these parameters for some off the cuff vj tap tap flashy flash action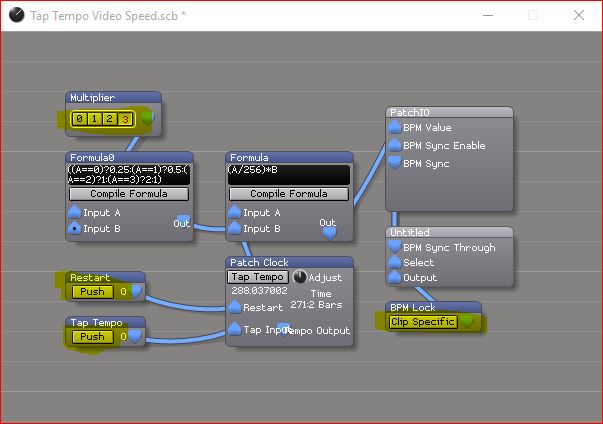 Attachments

Tap Tempo Video Speed.zip

You don't have permission to download attachments.

(4 Kb) Downloaded 1 times
This is great! i look forward to playing with this and midi clock/LD desk values.
this patch is now depreciated!!

In the current Ai release we now have the option of locking the media clip to a tap tempo. within the clip properties you can enable the function and specify the amount of beats you would like the media to last for and then use either the internal tap tempo or an external source to create the clock.
---
Permissions in this forum:
You
cannot
reply to topics in this forum