Sebastien




Posts

: 137


Join date

: 2013-02-28


Age

: 38


Location

: France



Hi just a quick thought I had this problem when the media was on a USB key once I copied the files onto the pc I could then drag and drop them
Hope this helps
Chris

Dmxdesign




Posts

: 12


Join date

: 2012-12-20


Age

: 56


Location

: Newcastle upon Tyne



No the media are on my main hard drive. And I have the same problem when I wanna drag and drop a 3D File like *.obj.
I try on a Mac with windows 7 x64 and I have the same problem...

Sebastien




Posts

: 137


Join date

: 2013-02-28


Age

: 38


Location

: France



This problem can occur on windows 7 when UAC is not disabled and when the application is not run as administrator. You need to restart after selecting to disable UAC. Another way I have found to fix this without completely disabling UAC is changing only one UAC feature within the Local Security Policies. This way your computer still remains s little more secured than just simply shutting UAC off.

Control Panel > Administrative Tools > Local Security Policy > Local Policies > Security Options > User Account Control: Only elevate UIaccess applications that are installed in secure locations

Disable this option.

Restart for this registry settings to fully percolate.

This is also a known issue on windows 8 that we are currently looking into.

Thanks and best regards
i used a slightly different technique to get Ai running on a windows 8 laptop - it required a manual edit of a registry value.

Go to Start > Run > then type: regedit (then press enter).

The windows registry editor will now open.

You now need to follow this route through the registry editor:

HKEY_LOCAL_MACHINE > SOFTWARE > Microsoft > Windows > CurrentVersion > Policies > System

Then Find this Key EnableLUA, Double Click on it and change the Value data from 1 to 0.

After pressing OK you'll notice in the task bar a message pops up saying UAC is now disabled and a restart is required.
Thank you it's now working when changing the Regedit ([HKEY_LOCAL_MACHINE\SOFTWARE\Microsoft\Windows\CurrentVersion\Policies\System]
"EnableLUA"=dword:00000000)
But now I have problem with the maping. I setup the new V7 and I found some bugs :
Here you can see the problem with the UV maping. The screen is the default square screen.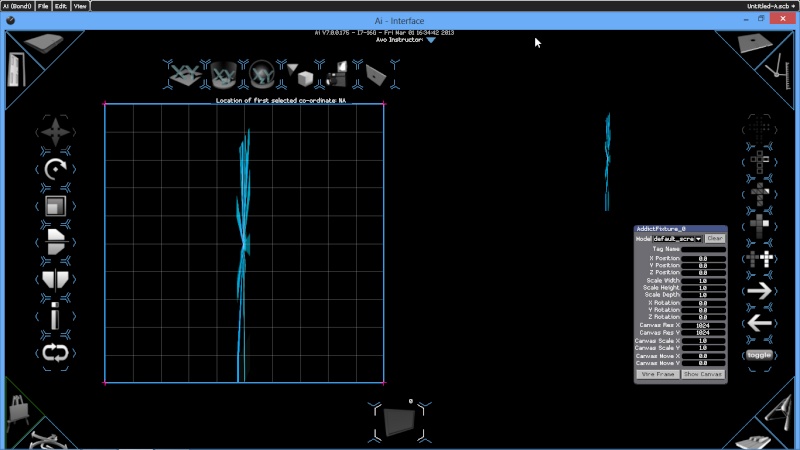 And here you can see the color is different from the original media. I cant have the red color of the media.
My computer is running with a Nvidia Geforce 650m and i7 3632QM. I already force the Nvidia card for the Ai software (Notebook with Nvidia Optimus).
I try to go back to the Ai V6 but I still have the same problem. It was working for some hours and after a crash now it's like that. I already uninstall and done the setup again. No change.
If you have some idea, Thank you.
++, Seb.

Sebastien




Posts

: 137


Join date

: 2013-02-28


Age

: 38


Location

: France



Hey Sebastian, I'll ask Ciaran to give you a call from our support team now. Speak soon
Hey Sebastien,
As far as I can see there doesn't seem to be any problems with the UV Mapping of the screen Model. You should be able to see that he texture co-ordinates are visible in the positions that would be expected (each corner of the screen).
What is more likely is that you have modified the inputs on the layer settings for the artnet personality. It looks like there is adjustments to the 'y rotation' which is creating the effect that it has been rotated in towards the screen.
To fix this, you can clear the layer parameters back to their defaults. To do this, go to the performance page (one with a keyboard for an icon in the bottom right corner). Double click on the layer you want to address and hit the 'apply defaults' button. This should clear all the changes you have made to that layer, solving the problem
Let me know how you get on,
Ciaran

Ciaran




Posts

: 32


Join date

: 2012-11-14


Age

: 32


Location

: Avolites Media



I am still having a problem dragging and dropping video files into the timeline in Ai. At first, I could not drag video into the performance page either but after following the steps to disable the UAC in Windows 7, that is working now.

Also, whenever I drag and drop a 3ds model that I make in Vectorworks onto a screen fixture in the stage construction screen, the default screen disappears as if it works but my model is nowhere to be found. I don't know if this is an issue of scale or what.

Any help would be appreciated.

Mplatt




Posts

: 6


Join date

: 2017-06-27



---
Permissions in this forum:
You
cannot
reply to topics in this forum